Bedrock Technology Partners - Website Design and Development
Project Specs
Client:

Bedrock Technology Partners

Agency:

Prosopo

Completion Date:

June, 2007

Project Scope:

Website Layout and Design
Website Development in Joomla
Graphic Design of Print Collateral Materials
Background
Bedrock Technology Partners is a high-tech engineering staffing company. Prosopo is a web design Agency I assisted on this project and Bedrock Technology Partners is their customer.
Project Description
The customer needed a website that communicated to their market, established their services, and helped them to launch their new venture, as they were a startup company.
Bedrock focuses on filling company staffing needs for software engineers, developers, help desk support professionals, database specialists, networking specialists, and project managers.
They needed a content management system to easily work with, a website to promote their business, and a professional solution to gather staffing data, as they had numerous positions to fill. Additionally, they required print design materials as well.
Project Solution
I developed a Joomla based website that communicates the companies ability to fulfill large scale staffing needs. Their corporate identity that combines blue hues, mountainous symbolism, and high-tech solutions was carried into the branding of the site.
Imagery depicting scaling, climbing, and successfully reaching the summit of a mountain was utilized throughout the design. I created the website template layout, promotional advertisements, organized the imagery, and planned the technical solutions to integrate before moving into coding.
A Joomla theme was customized to fit the design and integrated into the site with numerous functional elements. The solution provided a Javascript based image header rotator, live inbound scrolling RSS Feed, a customized contact form, a custom application form, dynamic search field, a multi-column option theme, and other solutions.
Providing this website to the client in a Joomla based content management system allows them to easily maintain it internally. The dynamic aspects of the design and style communicate well that this is a high-tech company, which is the industry they serve.
Project Results
The website helped increase the flow of staff hiring by giving a clear channel for submitting and receiving applications. Bedrock enjoys the presence the site delivers and quick and easy method of making content changes to the site.
The numerous technical solutions provided were made easy to use, which allowed Bedrock Technology Partners to focus on what they do best - fulfilling staffing needs. The integration of design and branding provided them a professional platform to grow their business.
Print Collateral Design
Aside from the website, I also created a professional stationary design solution and other collateral print materials. This gave them a full branding package to launch their business with.
Click on the images below to view larger screenshots.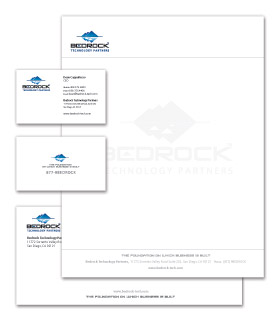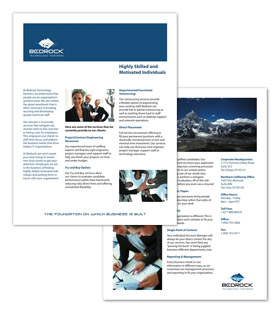 Bedrock Technology Partners - Home Page
The home page has a unique layout created in Joomla. This front page promotes their services and solutions. It has a scrolling RSS Feed and a dynamic image rotator. The design quickly draws user to learn more about the companies staffing expertise.
This page uses the standard two column layout. It also shows how lists where handled on the site. Most of the site uses this standard page layout with an attractive business photo inserted as well. Some of the key pages on the site have a unique three column layout, see example below.
Bedrock Technology Partners - Contact Page
The contact page has a unique three column view, which has a customized form based on the clients needs. It also delivers additional information, such as driving directions to their corporate offices. The Apply Online form is another unique form I developed for them, which was made to capture staffing applicant data.